| | | |
| --- | --- | --- |
| | Our Eco-Friendly Philosophy | |
We care about the environment and our future generations..."
Saving Dollars,
Going Green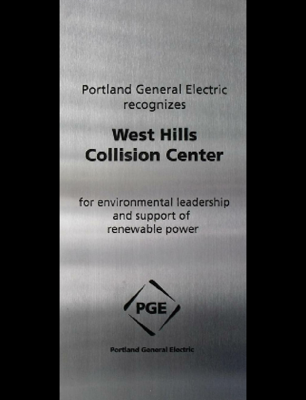 Going Green can save both the customer and the business money as well being better for the environment. We have found Eco- friendly practices can be applied to achieve higher quality work, while either maintaining or reducing the same business expense.
When we started our business in 1985, we reviewed common wasteful industry practices. We found better cost alternatives that made long-term economic sense (either lowered or maintained the same cost) and were environmentally friendlier. Although this may be contrary to common perception, both can go hand in hand. We started GOING GREEN in 1985, we did not realize we were true environmental leaders.
Eco-Friendly does not have to cost more, and in fact many Eco-Friendly green business applications actually save money. The collision repair process does require new virgin products, but we clean and recycle all recoverable solvents we use in an enclosed equipment cleaning system. Recycling allows us to keep solvents in the spray gun washer cleaner. So, not only can we do better work, but we can do it for pennies on the dollar.
It is still common practice in our industry for a shop to use purchased solvents in enclosed equipment for as long as possible without recycling. The dirtier these solvents are allowed to become, the poorer they perform cleaning. Cleaner solvents will not only do a better job of cleaning, but they will help prevent early equipment failures, down time and expensive repairs. It is the same principle as changing the oil in your car so you don't have to replace the expensive motor, except we have to change the solvent far more often.
What happens to all the old parts from my vehicle?
All scrap metals, batteries, cardboard and paper products are recycled. Plastic parts that can be recycled are also recovered. Recycling helps reduce demand on our world resources and lowers our overhead; we do not have to pay for hauling recycled items away as garbage. Furthermore, many of these recovered materials take far less energy and less natural resources to reuse.
As a business we have reduced our dependency on gasoline. We primarily use 100 percent battery powered electric vehicles to give customers rides, pick up parts or run errands. These vehicles get the equivalent of 100 miles per gallon of gasoline, requires no oil changes or air filters (fewer items to dispose), and has only one moving part (less mechanical items to maintain and/or repair). Even the brakes last longer, because the vehicles use regenerative braking. Our trips are local, so we have found that these vehicles, with 50 to 100 electric miles of range, is more than adequate for our business. When not in use, the vehicles are being recharged in front of our offices. An average trip takes less than an hour to fully recharge, so most of the time our electric vehicles are plugged in and fully charged (just like your cell phone). Since there is no dealer or independent support for these factory made electric vehicles, we do our own service work. This includes servicing the electronics and the 300- to 400-volt battery pack (depends on the battery chemistry).
West Hills Collision and Hilltop Collision have always been on the leading edge of collision repair technology. We're not your average collision repair facilities waiting until it is imperative to understand technological advancements. Instead, we are ahead of the curve in the auto repair industry. We have been using advanced electric vehicles since 2004, long before the huge gains in gasoline pump prices. As more Hybrids and full electric vehicles come into production, you can rest assured we will know them inside and out.
Regardless of how your vehicle is powered now or in the future, our commitment is to be able to provide you the highest quality repairs that are cost effective and with the least amount of impact on our planet.
Wind Power
All of the electricity used by West Hills Collision and Hilltop Collision Centers is 100% supplied by Northwest wind power, so both businesses are designated as Green Power Businesses (found under our corporate name West Hills Body & Paint). You can find out more information about Portland General Electric on our Clean Wind Energy web page.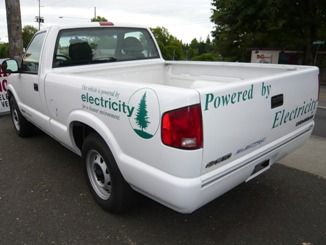 Electric Vehicles
We have several Factory-made OEM all electric vehicles. Our Chevrolet S-10 EV pickups based on General Motors EV1 Electric Car technology, and our RAV4-EV and the Ranger EV are also OEM factory made 100% electric vehicles. The service work for all these vehicles is performed by us. We also have "on-site" electrical charging stations so that we can charge our vehicles. You can find more EV1 information on our EV-1 web page. We also sponsor the The Oregon Electric Vehicle Association.
Research Support
We currently support Oregon State's Solar Vehicle Team. You can find more information on our Oregon State Solar Vehicle Team web page.